CU Amiga Magazine
EMAP Images
37-39 Millharbour
Isle of Dogs
London, E14 9TZ
United Kingdom


September 4, 1997
Contact: general@cu-amiga.co.uk

CU Amiga Magazine announces new AIR Link DIY project with covermounted Printed Circuit Board

AIR Link is the latest project to feature in the DIY Scene section of CU Amiga Magazine. Project XG was the debut project and it's been met with resounding enthusiasm. It's not been without its problems, however, (see Project XG addendum) but from the feedback gained we have a far greater knowledge of the problems that can occur and the capability of most Amiga DIYers.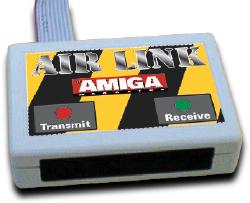 AIR Link is an adaptation of the InfraRexx hardware/software combination and CU Amiga's next revolutionary step is to simplify construction and include the Printed Circuit Board on the cover of every issue.

AIR Link is an InfraRed transceiver that plugs into the joystick port on an Amiga. It has the ability to control virtually any InfraRed controlled device and even allows controlling of the Amiga with any InfraRed controller from a domestic appliance. The possibilities are endless as AIR Link's InfraRexx software support suite allows controlling of any Amiga applications with an ARexx interface.



Even if you don't know ARexx, using it and AIR Link is extremely simple. For example, to quit Miami 'Address MIAMI;quit' can be inserted in the receive instruction for one of the remote codes. 'rx "address INFRAREXX ; CDTV_PLAY" entered in the shell will start a CDTV playing a CD. Adding transmit commands to Opus buttons, Tool Manager docks, Tools Daemon menus, DefIcon defaults and of course your own ARexx scripts is both easy and powerful.

Here's a quick list of features particular to AIR Link;

Custom designed PCB to fit in tiny 59 x 41 x 18mm box (pictured)
Visible transmit and receive LEDs
Suite of fully operational, easy to use and powerful software
Easy contruction with no wires, drilling or complex techniques
ARexx support, provided examples and common IR code sets
Extremely low cost
The kit of components will be provided by ACL Ltd at a cost of under £15 including box and cable to joystick port. Construction instructions and software with examples will appear in the November issue of CU Amiga with the covermounted Printed Circuit Board. The construction feature will assume no knowledge of soldering and will include a short tutorial on basic soldering.

AIR Link, another ground breaking DIY feature from CU Amiga Magazine. The Amiga Magazine written by Amiga enthusiasts.
---
Amiga News Index
Amiga Web Directory
---
Champaign-Urbana Computer Users Group / nunya@bidnezz.com