Amiga99 - Exclusive Show Coverage From the Amiga Web Directory
---
Welcome to Amiga99!
The Amiga99 show was held in St. Louis, Missouri on March 12, 13 and 14, 1999. I attended the show on the 13th.
Below is a report on what I saw and who I talked to. Thanks to Bob Scharp, Show Chairman, for putting this show together and for all his help on behalf of CUCUG. Bob and his very lovely wife Diana are the driving force behind Amiga99!
Sorry about the length of this report (there was a lot to see and to report on!) and the number of pictures. I have tried to keep them small for loading time sake and I have split the report into two pages, but it will probably still drive many of you crazy. To see a more detailed image of any picture, simply click on it.
I arrived at 11:00am on Saturday and people were lined up to get in, almost spilling out onto the street! Luckily my exhibitor badge allowed me to shamelessly cut the line and enter the show floor. Inside the hall, I surprised at how "nice" everything was. The exhibit hall was well organized, tables were draped and the hall itself was nicely appointed with lots of wood and lush decoration.
As the ravenous Amiga hoards were let in, you could hardly walk around due to the crowed aisles. We have not yet received the official attendance figures but we would not doubt it if the number was even larger than last year. (Update: rhw numbers are now in. 1,142 people attended the show this year, a 14% increase over last year.)
Many of the top Amiga companies were at the show but there were some noticeable absences. The companies and organizations who did show, did so in an enthusiastic way, though.
On to the Show Floor!
(Please note that the people's names in bold type are those pictured in the accompanying photos. I apologize to you if I was unable to include your picture here.)
---
AEMail
When John Zacharias started using his Amiga for e-mail he was very frustrated that all of the features he wanted from an e-mail client were not available all in one program. AEMail is a mail client designed to read, process, compose and send e-mail from an Amiga computer over the Internet. It provides an easy to use graphical interface designed specifically for the Amiga. It connects to an Internet server through AmiTCP or any TCP/IP stack compatible with AmiTCP. This includes TermiteTCP and Miami. It uses the AmigaDOS editor, ed, or any other editor of the user's choosing for developing email messages. No other external programs or modules are required. The POP3 and SMTP protocols are built into the program. I thought the interface was nice (despite the fact that it does not require MUI) and especially noted the easy-to-navigate tool bar.

---
Amazing Computing / Amiga
Don Hicks, publisher of the only Amiga-oriented glossy magazine in North America, Amazing Computing/Amiga, was very busy in his booth selling the latest issue of Amazing (March 99) and offering subscriptions. the previous evening, Don was busy videotaping all of the goings-on at the various speeches and other show events. The highlight of Friday evening was the rousing speech given by new Amiga president Jim Collas. Don said that it is very likely that Amazing would be publishing the finished video tape, so if you could not make the banquet, you can still see all of the activities for yourself. Watch the What's New page of the Amiga Web Directory for the availability announcement about the video.

---
Amiga Atlanta
The fine folks at Amiga Atlanta were showing off their newest creation, a video feature highlighting a group of Amiga computers which are still actually being used at NASA to control critical mission details. The video takes us into the Hangar AE complex where the Amigas are called upon to assist with many spacecraft launches, even the Space Shuttle. The 11 min. (approx.) video is available from the club in VHS PAL and NTSC formats. Check out the feature, The Secret in Hanger AE on AAI's web site for a preview.

---
Anti Gravity
AntiGravity was extolling the virtues of their latest killer Amiga clone, the Boxer-based Neila Phase - 498, a decked-out '060/66 Amiga machine with lots of bells and whistles for not a lot of money. This is a pretty machine that when it comes out should be an interesting contender in the Amiga clone market.

---
Brain Technologies This company was showing off its program aimed at kids aged 6 and up called Mr. Robot's Speak 'n Spell. This program is a talking computer vocabulary wizard which can rapidly expand your child's word power by using superb graphics, animation, music and speech. Over 1,000 pictures are included, you can choose male or female robots, and you can select levels ranging from kindergarten through college.

---
Brewster Productions
Payroll Plus is an Amiga-based program to control and track the payroll costs of your company. Author Richard Brewster (in the red tie) began writing the program four years ago after discovering that no one had offered the kind of package he needed in his own business. When he first started, it was necessary to purchase the venerable SuperBase database program on the Amiga. Now Payroll Plus is using a special runtime version of SuperBase, thus making it a completely independent stand-alone application. The latest version now available offers many new features and updates.

---
Compuquick Media Center, Inc.
One of the busiest booths at the show was Compuquick. Randhir and Sarla Jesrani were constantly helping customers with questions about the merchandise they were selling in their booth--and they had a ton of stuff. Compuquick was selling Amiga A1200 Magic Packs, NewTek Video Toasters and Video Flyers, Spectrum video boards, hardware accelerator kits for all Amigas, AmigaDos 3.1 upgrade kits and gobs and gobs of Amiga software and accessories.

---
Champaign-Urbana Computer Users Group
CUCUG hit the show floor offering memberships and renewals and the booth was pretty busy with people signing up to join the group. We also offered fans of the Amiga Web Directory the attractive, official AWD T-shirts which were also quite popular. Many thanks to CUCUG member Don Shaffer and his lovely wife, Kay for their help with the booth this year.

Here we see the famous Amiga Web Directory shirt being shown off by Amiga Inc.'s General Manager Jeff Schindler. Sure, Jeff you can have a free shirt if you send us a complementary AmigaSoft 5.0 machine when it comes out!
Many of the visitors to the CUCUG booth congratulated us on the success of the web site, quite a number of them noting that the Amiga Web Directory is the first page they look at when they turn on their computer.

---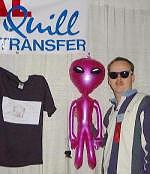 Digital Quill
This vendor was showing off its line of custom-designed Amiga-oriented T-shirts and other clothing items. According to Chris Holt, Digital Quill (no relation to the Amiga software package of the same name) specializes in digital image transfer and can produce T-shirts, sweats, mugs, mouse pads, plaques for organizations from just about any kind of artwork--digital or not. So, if your group wants its own logoed merchandise, check out these guys.

---
E.S. Productions
Amiga cartoon artist Eric Schwartz and his father Ron were offering a variety of what appeared to be used hardware and software for sale as well as a selection of articles including some of Eric's fabulous artistic Amiga creations.

---
Gateway Amiga Club (GAC)
One of the more active areas at the show, were the Gateway Amiga Club's Consignment Tables. Show attendees were encouraged to bring their used hardware and software (no copies!) to the consignment area and offer it for sale to the hordes of other Amiga fans at the show. This was a unique opportunity for buyers and sellers alike and with a minimal 10% commission due GAC for their services, everyone profited! The club was also selling its GAC Originals Collection. We're sorry, but we did not get the gentleman's name in the photo.

---
FWD Computing
I stopped by and had a very nice chat with Frank Davis and his lovely wife, Carol. Frank and Carol have run their mail-order company since 1986 and originally supported only Sinclair Computers(!) from the UK. They also published Update Magazine for nine years. Four years ago they started selling Amiga used hardware and new and used software at computer shows in the Midwest. This has been a success for them and they have decided to continue and expand to as many all Amiga shows as possible. They also plan to increase the amount and variety of Amiga software they sell at other computer and Ham Radio shows. Their wide line of merchandise is now available on line at their web site. Check it out!

---
Copyright, 1999, CUCUG - No Reposting. All photography Copyright, 1999 Kevin Hisel